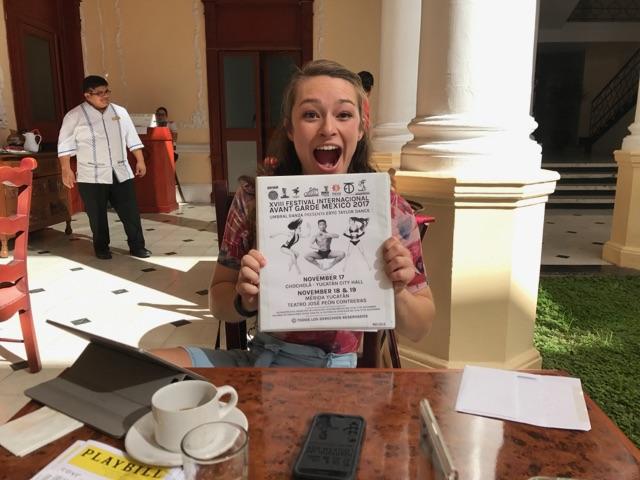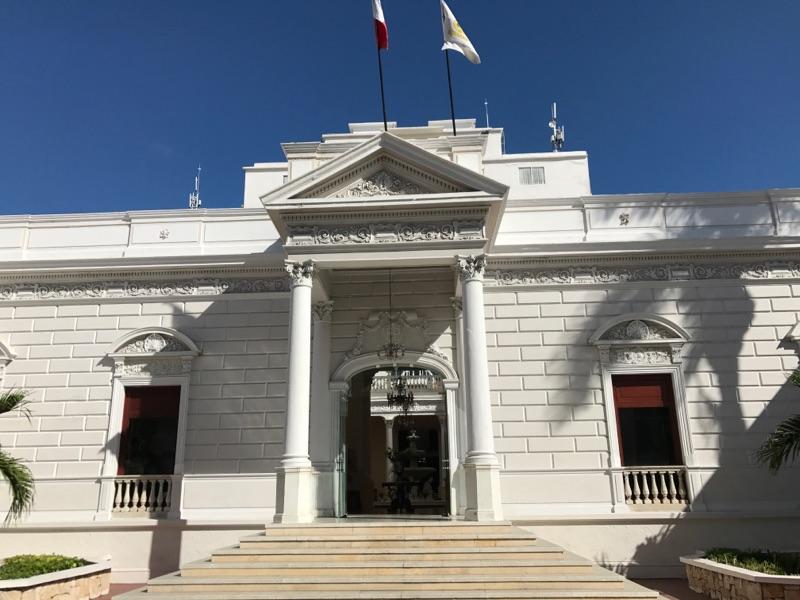 9:00 AM
The cab arrives and I load two carry-on's and two huge suitcases of costumes. The cross-town traffic is moving at glacial speeds but fortunately the Dial 7 car driver is very talkative and inquisitive about the tour. He seems genuinely enthusiastic about the fact that I have my own company and I'm doing what I love. He said I'm living the American Dream, which humbled me greatly. He's lived here for 14 years and brought all his family over from India. I'm happy to have met such a joyful & peaceful spirit.
9:55 AM
I make it to LGA, dreading customs but excited to meet up with Taylor, AJ, Chris and Alex. It's always great to see their forever young faces and even more so with the excitement to be going to Mexico.
10:30 AM
AJ and I head to the Centurion lounge for some breakfast and chill time. 😎
12:00 PM
We're all waiting at the gate and of course, have to take our group "gate photo" before boarding the plane. Just three and a half hours until we're in Houstin where we'll meet up with Nicole for our final flight to Merida. Everyone seems like they're in a good mood and I'm rather calm and collected as opposed to my usual anxious self. I know it's partly from feeling a lot more centered and confident, but mostly it's because I know I have an awesome team and great dancers. Nicole and Andrew did a great job with all the preparations, scheduling, logistics. They created the company tour packets with all kinds of info for the dancers which includes our daily tour schedule, workshop outline (which Alex's mom kindly helped us translate in Spanish to a simpler version). Everything is much more organized this year thanks to Nicole. Andrew also went back and forth with Umbral designing the official poster and programs for a week or more. The day before the tour, we ended up printing 200 programs and 50 posters to take with us. While judging Umbral's Spring dance competition, I had offered to the producers in a verbal agreement that I would take care of all the printing of posters and programs. It's been a challenging process going back and forth with all the details, especially with the language barriers - but its made it all that much more rewarding. Jorgé, who is Cristobal's (Producer) brother, has been very communicative and helpful.
Unfortunately, our lighting designer J had to fly on his own 6AM flight directly to Mexico City and has a 5 hour layover in Mexico City before his flight to Merida. He also has to wait 2 hours for us in Merida before we arrive at 8PM. I have to say the travel agency in Mexico who booked our company flights got us an awesome itinerary with convenient departure times and minimal layover time.
3:30PM
We land in Houston and Houston we have a problem. Our flight to Merida is delayed by an hour on top of the hour layover we already have. On the bright side, Nicole finally met up with us and the time flew by rather quickly. I had a brief reprieve in The Centurion Lounge which is always lovely, but I wish I was allowed to bring the whole company in...
8:16PM
The captain just announced we're about 10 minutes until we begin our descent into Merida. Customs and immigration cards are all filled out. I just can't wait to get to Mexico and see all of our friends. Our workshops begin tomorrow in Chocholá and I love that ETD is promoting the city because every time I ask about the town, nobody has ever heard of it before. 'Cho-cho-la' is a rural Mayan city where they actually still speak Mayan dialects and the culture is like walking back into time. It's a very unique experience.
10:00PM
We land in Merida! An hour passes and we finally make through customs and immigration.
We are greeted personally by Cristobal Ocaña and our driver for the week brought us to The Mision Merida Hotel instead of staying in Chocholá as I originally though. The hotel which is absolutely beautiful. The courtyard sports a gorgeous water fountain in an old grand Spanish mansion style architecture. We're ecstatic that we're staying in Merida the entire week and couldn't be happier. The dancers are happy and all is well! We made it!